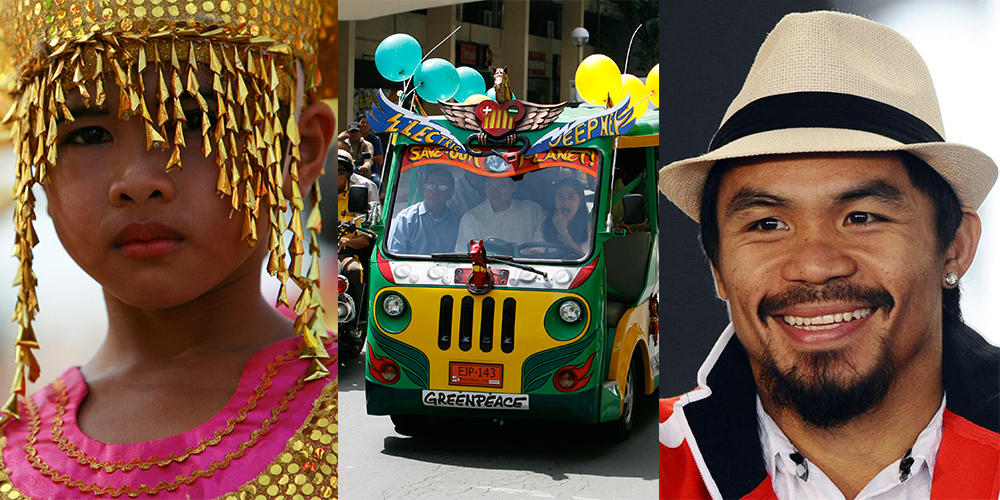 Asia Profiles: Philippines
source:
REUTERS/Darren Whiteside, REUTERS/ Romeo Ranoco, Joaquin008 via Wikimedia Commons
The Philippines is a Southeast Asian country made up of 7,000 islands and more than 100 million people. It is also the home of Manny "Pac Man" Pacquiao, (pictured above, right), one of the world's most famous boxing champions. The Philippines is also the proud creator of the jeepney (above, centre), a very colourful, and often crowded, form of public transportation.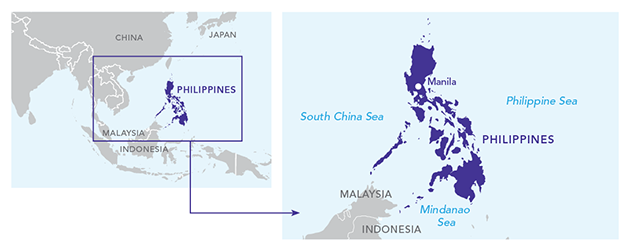 Map 1: Philippines.
Basic Facts
Population: 100,998,376 (percentage under 25 years: 53%)
Life Expectancy: 69 years
Literacy Rate (age 15 and over can read & write): 96%
Official and Major Language(s): Filipino (official; based on Tagalog) and English (official); eight major dialects: Tagalog, Cebuano, Ilocano, Hiligaynon or Ilonggo, Bicol, Waray, Pampango, and Pangasinan
Type of government: Presidential republic
Current leader: President Rodrigo Duterte
Economy 
GDP: C$403.80 billion
GDP per capita: C$3,875
Currency: Peso 
Exports: semiconductors and electronic products, transport equipment, garments, copper products, petroleum products, coconut oil, fruits
Imports: electronic products, mineral fuels, machinery and transport equipment, iron and steel, textile fabrics, grains, chemicals, plastics
Updated July 2017
The Philippines-U.S. Relationship (It's Complicated)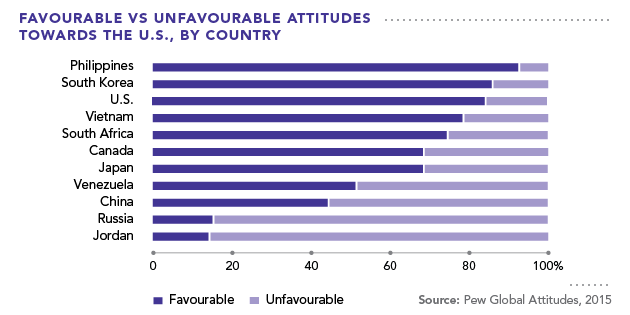 Figure 1: Favourable vs unfavourable attitudes towards the U.S., by country.
A 2015 survey asked people in different countries about their view of the U.S. The Philippines was more favourable towards the U.S. than any other country included in the survey—including the U.S. itself!  These feelings have been positive for several years, ranging from 85% to 92% favourable. 
But behind these numbers is a more complicated story. The relationship between the two countries goes back more than 100 years, when the U.S. seized the Philippines at the end of the Spanish-American War (1898). The U.S. gradually introduced more self-government, and the Philippines gained full independence after World War Two. But the U.S. maintained a naval base and an air base there because of the country's strategically important location in the Pacific Ocean. This military presence has been a source of ongoing local resentment.
In recent years, tensions between the Philippines and another major power, China, have risen over territorial disputes in the South China Sea. That seems to have drawn the Philippines and U.S. closer together. That is, until the election of President Rodrigo Duterte in 2016. President Duterte has signaled that he is thinking of "breaking up" with the U.S. and building stronger relations with China, which would likely impact the Filipino-American relationship.
Remittances: Economic Boost from Filipinos Abroad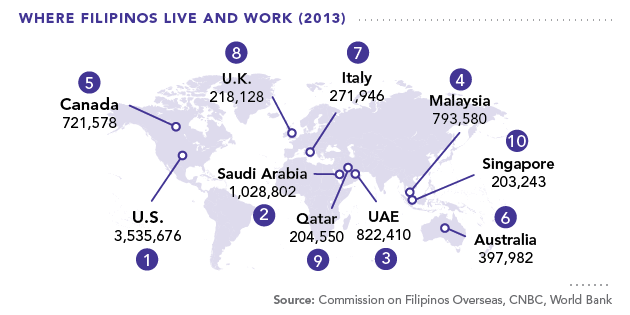 Figure 2: Where Filipinos live and work (2013).
The Philippines economy is one of the fastest-growing in Asia. But some Filipino families still rely on money from family members working in other countries. These payments are called remittances, and the Philippines is the third-largest country in the world in terms of the dollar value of its remittances, behind only India and China. In 2015, these remittances totaled US$27 billion, or about 10 per cent of the country's Gross Domestic Product (GDP).
Currently, more than 10 million Filipinos are working abroad. Remittances from the U.S. are the highest among overseas Filipino workers, followed by Saudi Arabia and the United Arab Emirates in the Middle East. Canada is in eighth place. According to the Philippines Statistics Authority, the most common careers among overseas Filipino workers (OFWs) are unskilled labour (33%), service and market sales workers (18%), and plant and machine operators and assemblers (13%).  
In 2014, the Philippines was the largest source of immigration to Canada, welcoming approximately new 40,000 permanent residents. Filipino immigrants to Canada work a wide range of jobs, depending on the province they reside in. Two of the most common professions are nursing and care giving. It is estimated that families in the Philippines receives approximately C$2 billion in remittances from Canada every year. 
The Risks of Reporting in the Philippines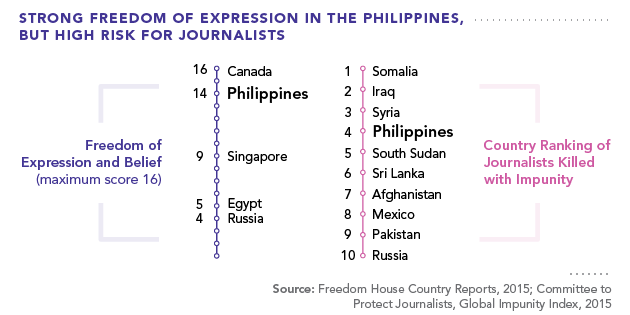 Figure 3: Strong freedom of expression in the Philippines, but high risk for journalists.
"In the Philippines, journalists carry guns and know how to use them because they are in constant danger." That 2015 statement was made by Reporters without Borders, an organization committed to freedom of information and expression around the world. Another group, the Committee to Protect Journalists, ranks the Philippines the fourthworst on its Impunity Index based on how many murders of journalists in the past decade have been unsolved and/or unpunished. 
The Philippines is a vibrant democracy with a free media. But it has a lot of corrupt politicians, and many believe the murderers are hired by politicians who are under investigation. Of the reporters killed, 61 per cent covered politics and 43 per cent covered corruption (and some covered both). 
The most serious example of Philippines journalists under threat was the Maguindanao Massacre, also known as the Ampatuan Massacre. In November 2009, a group of 57 civilians, 30 of them journalists, were kidnapped and killed while on their way to a political event on the southern island of Mindanao. The suspects are the politically-connected Ampatuan family. So far, prosecutors have filed murder charges against 95 suspects, although none of them have been convicted yet. In October 2016, the Justice Secretary set up a new task force to speed up the process. 
In the News
THE PHILIPPINES–U.S. RELATIONSHIP (IT'S COMPLICATED)
REMITTANCES: ECONOMIC BOOST FROM FILIPINOS ABROAD
THE RISKS OF REPORTING IN THE PHILIPPINES
Audio
Hello
Thank you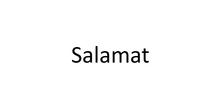 I love you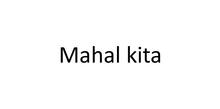 Long Live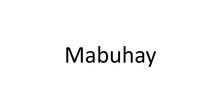 Teacher Resources
Overview
Registration Info
Teacher's Guides
Contact us
Overview
We invite teachers to share ideas for using these materials in the classroom, especially how they can be used to build the curricular competencies that are prioritized in the new B.C. curriculum.
By registering with us, you will be able to access the for-teachers-only bulletin board. Registration will also allow us to send you notifications as new materials are added, and existing materials are updated and expanded.
For the sign in/register section:
Please register below to access the teachers' bulletin board, and to receive updates on new materials.
Sign-in/Register
Registration Info
We want parts of this section to be secure and accessible to teachers only. If you'd like to access to all parts of the Teacher Resources, please sign-in or register now.
Sign-in/Register
Teacher's Guides